US Senators letter to Mikhail Gorbachev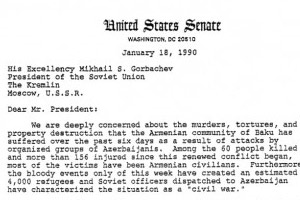 U.S. Senate,
Washington, DC, January 18, 1990.
His Excellency Mikhail S. Gorbachev,
President of the Soviet Union,
The Kremlin, Moscow, U.S.S.R.
Dear Mr. President: We are deeply concerned about the murders, tortures, and property destruction that the Armenian community of Baku has suffered over the past six days as a result of attacks by organized groups of Azerbaijanis. Among the 60 people killed and more than 156 injured since this renewed conflict began, most of the victims have been Armenian civilians. Furthermore, the bloody events only of this week have created an estimated 4,000 refugees and Soviet officers dispatched to Azerbaijan have characterized the situation as a `civil war.'
We commend your efforts to prevent both the further loss of life and the continued violations of the Armenian minority's human rights in this region. Beyond the restoration of civil peace, we also believe that the most important goals for Soviet authorities include the guarantee of safe passage for Armenians in Azerbaijan who wish to leave for their homeland, and the breaking of the Azeri-imposed economic blockade of Nagorno-Karabagh and Armenia, where Americans and other foreign nationals still work on earthquake relief projects.
The horrifying upsurge of violence in Azerbaijan only dramatizes the need for the Soviet government to insure that the 160,000 residents of the enclave of Nagorno-Karabakh can exercise their autonomy by reuniting with Soviet Armenia. For nearly sevently years, Azerbaijani rulers have succeeded only in imposing cultural persecution and economic discrimination on the Armenian people of Nagorno-Karabakh, who account for 80 percent of the territory's population.
We therefore urge you to address the core issue of this tragedy by allowing the people of Nagorno-Karabakh to freely choose their political and cultural associations within the Soviet Union.
Sincerely,
PETE WILSON,
PAUL SIMON,
LARRY PRESSLER,
JOHN F. KERRY,
CLAIBORNE PELL.