News / Messages
"We are very keen to put pressure on Azerbaijan to bring the POWs back to safety as it should do and to stop all those crimes against humanity".
Months after the Second Artsakh War launched by Azerbaijan, hundreds of Armenian prisoners of war are still being illegally held in Baku and war crimes are still being reported. Moreover, Azerbaijan goes beyond physical and psychological aggression, targeting and destroying the Armenian heritage in Artsakh in a deliberate manner.
The project "An Ordinary Genocide" is making videos entitled "I accuse Azerbaijan" where the eyewitnesses are telling the horrible incidents that occurred in Baku, Sumgait and Maragha. One of those videos was presented during today's press conference. The video showed one of the eyewitnesses telling about the tragedy in Baku. "An Ordinary Genocide" project manager Marina Grigoryan told reporters, Panorama.am reports.
U.S. Representatives Adam Schiff (D-CA) and David Cicilline (D-RI) offered strong condemnations of the Azerbaijani massacres in Sumgait, Baku and Kirovabad and spoke out in support of the democratic right to self-determination of the people of Artsakh in powerful statements issued in commemoration of these crimes, reported the Armenian National Committee of America (ANCA).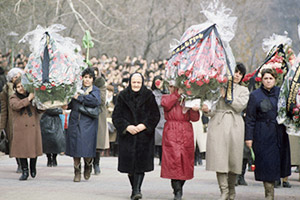 Twenty-five years ago, the seaside town of Sumgait in Azerbaijan, then part of the Soviet Union, became the scene of bloody anti-Armenian riots in which at least 32 ethnic Armenians were killed, according to the official estimates, although some sources say that the real figure is much higher, the article of The Voice of Russia reads.
First the buzzer started ringing, then the furious knocking began. Cowering in his apartment in Baku, Ashot Arutyunov, an Armenian retiree, knew better than to open his door. The previous night, Azerbaijani thugs armed with address lists had begun hunting down Armenians house by house. If only he and his family remained quiet, Arutyunov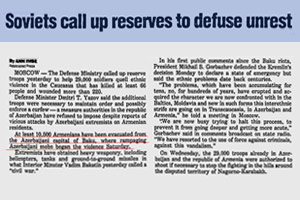 MOSCOW —The Defense Ministry called up reserve troops yesterday to help 29000 soldiers quell ethnic violence in the Caucasus that has killed at least 66 people and wounded more than 220. Defense Minister Dmitri T. Yazov said the additional troops were necessary to maintain order and possibly enforce a curfew — a measure authorities in
The premiere of "Maraga, 10 April, 1992" documentary, the third film of the "Ordinary Genocide" series, will be screened tomorrow, at 10 p.m., on Publiv TV of Armenia, the head of the public relations and information center of the Armenian President's Administration Ara Saghatelyan said during the film presentation ceremony today. A. Saghatelyan reminded that the film series will be done by the yearend. "Maragha is a theme, which, I think, has been left beyond attention for years, however, we have facts, a range of killings which evidence that people have been killed because of their national belonging," A. Saghatelyan said.